"Coding Utopia" – 3 days of impact-driven hacking
written by

Clara Fischer
2020-02-10T17:30:43.900Z
N3XTCODER and Naturfreundejugend Deutschlands breaking boundaries between techies and environmentalists at C-Base Berlin: 30 motivated youngsters hacking the future together.
Technology does not have the best reputation in terms of ecological footprint. In fact, digital technologies and their usage are one of the main contributors of the greenhouse gas emissions: According to "The Shift Project", the industry emits about 4% globally, which is more than civil aviation currently takes up.
As a consequence, Naturfreundejugend Deutschlands and N3XTCODER collaborated in a joint Hackathon. The aim was to enable the next generations to work on finding solutions in which digital technologies can make a tremendous impact solving today's pressing climate issues.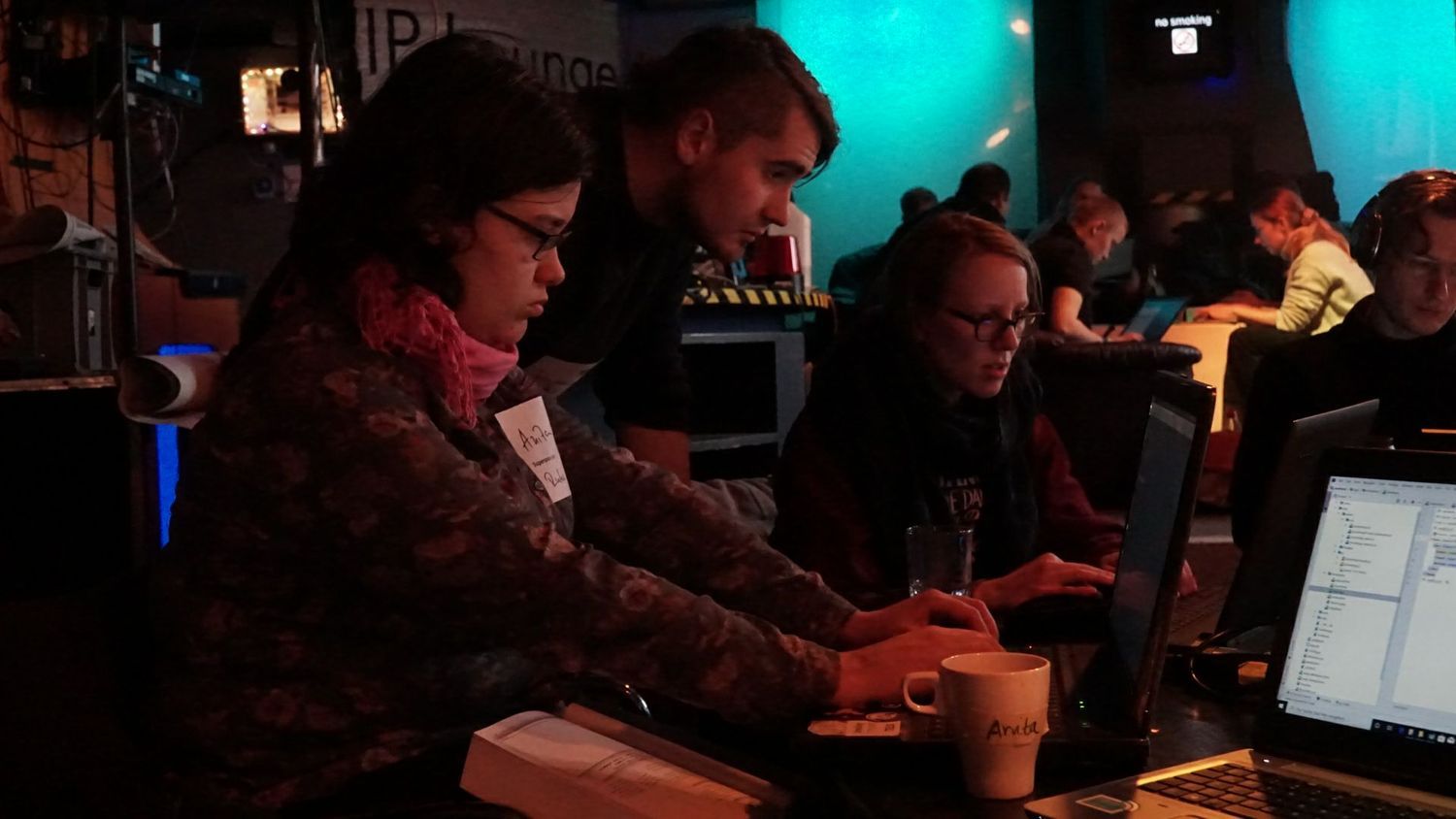 Where two worlds meet: Techies and climate activists join forces
Around 30 teenagers and young adults came together to participate at the "Coding Utopia" Hackathon taking place on the 24th until the 26th of January at c-base in Berlin. Coders, environmentalists, tech-interested climate activists and many other curious as well as impact-driven personalities formed groups to tackle issues that contribute to a sustainable future. Each team was formed organically by exchanging ideas and getting to know the skills and interests of the potential group members.
One of the teams came up with an app prototype which helps individuals to invest in and protect durable devices. By providing information such as experienced longevity, warranty agreements, tips on how to prevent breakage or how to repair damaged electronic appliances, they want to encourage users to extend the product life cycles. As a community-based and open-source app, each member can help build the database by registering any owned products and providing insights on common errors, fixes and more.
Tim Winkler, one of the many volunteering mentors, states: "I'm very impressed by how the teenagers managed to combine their skills and kept being open-minded towards each other. I was afraid that the different personalities of the more technologically interested versus the ecologically driven will collide, but with a minor input and by empowering them to find solutions, the team has found a respectable way to collaborate on their project".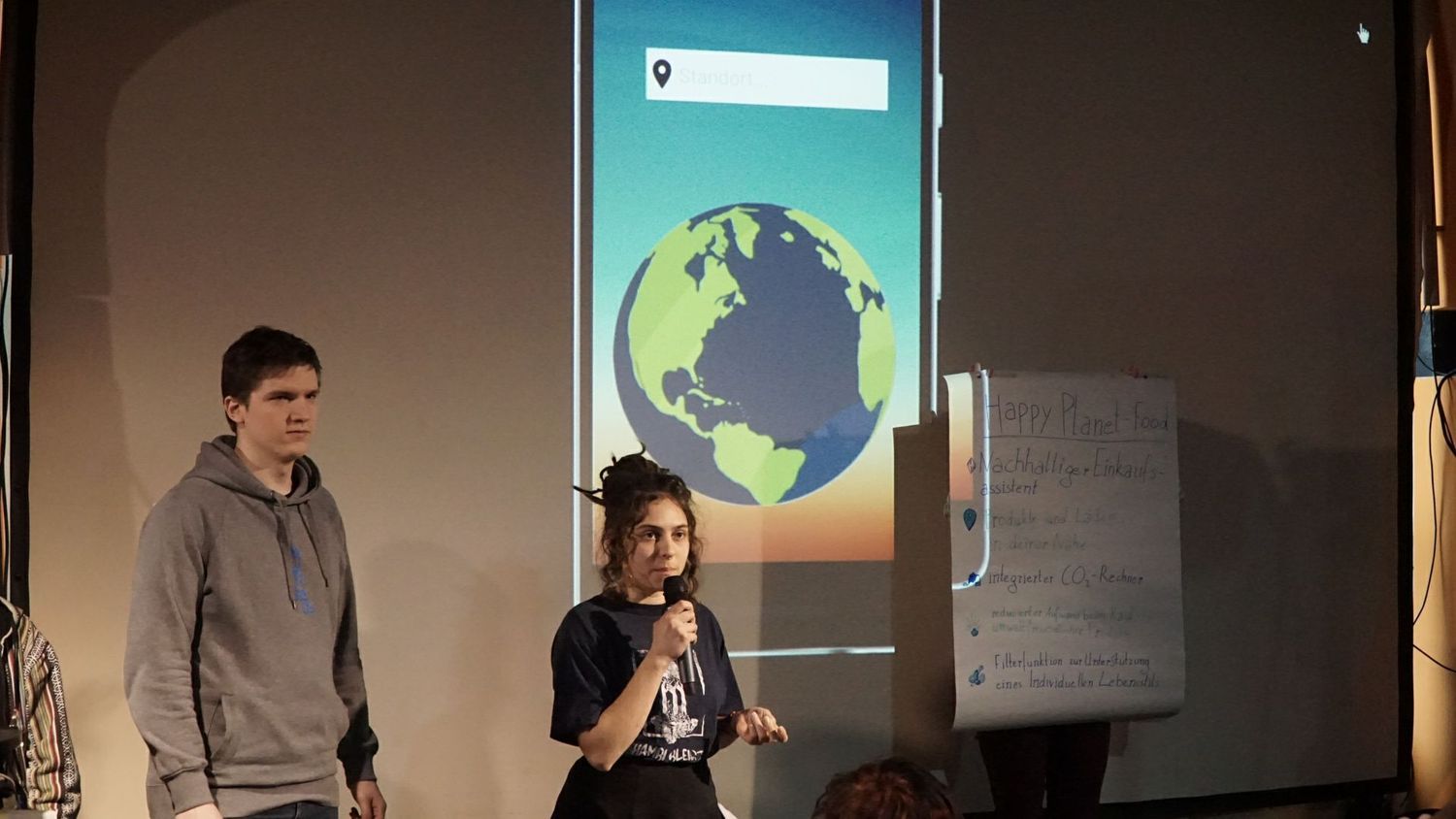 Amongst the groups, Martin and Maurice from Roofseed took part as a team that has formerly won the xStarters Challenge at Volkswagen. With their app solution, they want to empower individuals to create a greener neighbourhood, especially in urban areas. By collaborating with a skilled coder, they managed to set up an MVP of their website, which shows a map with possible planting segments: Individuals can request these segments online, which will inform the responsible municipality. Once approved, the segment can be planted – preferably with the plant the website recommends. As the team mentor, Leonardo has had an eye on the dynamics between the parties and concludes: "I am sure this Hackathon was a learning for all – merging both technology enthusiasts and environmentalists is the future and needs to be encouraged. The combination of a digital skill set with a sustainable mind-set is exactly what the world is calling for. I'm very happy that I could contribute to this development".
All in all, both N3XTCODER's Co-founder Simon as well as Tobias and Stephanie from Naturfreundejugend Deutschlands believe that the Hackathon and its outcomes have contributed to an awareness of its joined potential. Tobias states: "To me, it seems like everyone gained an understanding on how we can develop solutions together – I am positive that a longer and more in-depth collaboration will create a vast impact, even in each of us personally."
Stay tuned for more upcoming events – we will keep you informed on our future collaborations in this manner.