Whether building an app from scratch, relaunching a website, deploying your digital platform, or advising you on your technical strategy...We support you to bring your vision to life.
Find out what service is best for your project. Book a free consultation to speak with one of our experts...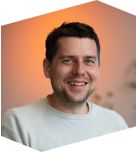 Simon Stegemann
Co-Founder & CEO
Via Grief Room
With one of Germany's largest charities, we developed a digital memory room to support grieving people. A space to remember loved ones, we transformed their vision into a web app.
BioMarkt
Platform relaunch for BioMarkt Verbund - biomarkt.de - an alliance of around 500 organic stores in Germany. We delivered the concept, design, the development of the entire platform
Goethe-Institut
A lighthouse project with the Goethe-Institut to introduce agile methods and innovative technologies through the development of a peer-learning app.
SDGI
SDG Investments is a platform for investors to discover impact-driven investment opportunities. The technology, design, UX, and infrastructure are all developed by N3XTCODER.
N3XTCODER is a partner with expertise in agile digital platform development who also sees collaboration as a value. Up until November 2021, we conceptualized, designed and developed the digital experience of biomarkt.de together. N3XTCODER quickly became a strong extension of our web development team at dennree and helped us apply agile methodologies to our current and future projects.
Lukas Nossol
Marketing Director at dennree GmbH
Subscribe to our newsletter to receive info on tech events, job vacancies and project updates.